Being leader is not a present, but a position that you have to gain day by day, with steady commitment, reliability and honesty. We have started our activity repairing presses in our region, when the contracts were concluded by handshake. Now, after 30 years of activity, we sell and install presses all around the world as demonstrated by our references.
We operate at international level. Every day we speak English, French, Spanish, German, Turkish and Russian and our sales network is composed by more than 20 representatives spread in all the main industrialized countries and in the emerging countries. We installed presses and automatic lines in the USA and in Russia, in China and in India, in Japan and in Turkey, in Korea and in Thailand, in all Europe and in Brazil and in many other countries.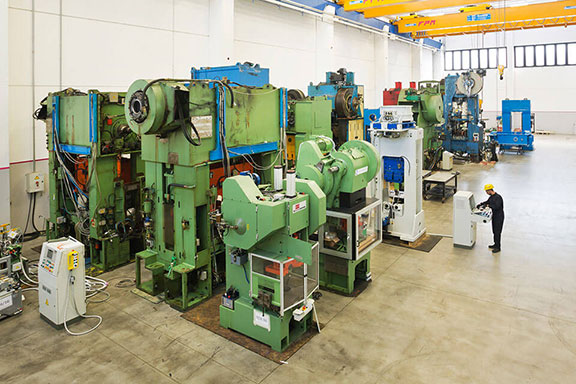 We can offer a complete new forging line, built by us or a line that is completely overhauled.
Thanks to the deep knowledge of the presses, the qualification of our technicians and the experience of our managers in the forging sector, we are able to suggest to our customer the right solution for every need, both technical and financial.
We can offer a complete new manufacturing line, built by us or a line that is completely overhauled. We have the know-how to produce hundreds of forged parts in the different alloys. The range of machineries includes presses with progressive or transfer dies, for coining, cold, warm and hot forging.
Thus we are the sole interface for any machine in the stamping and forging industry, to grant smooth decisions and simple project management.
Video Gallery
Please tipe your e-mail address and you will be able to see all the videos